Beach season is over, but collectors of vintage lithographed tin pails don't want their prizes anywhere near water. These colorful toys had their heyday from the 1930s to the '60s, though older ones exist. Prominent American makers were Ohio Art, J. Chein & Co. and T. Cohn Inc.; others included Wolverine and U.S. Metal Toy Mfg. You also can find litho-tin pails from Germany and England.
Price varies considerably, but you seldom find one in decent condition for less than $30. Rare ones or pails with sought-after motifs can bring hundreds of dollars. If a shovel is included, it adds value.
The pail shown is by Ohio Art. It was $10 (a steal) at Gary's Antiques, which occupies an old house at 231 W. Yarmouth in Oak Cliff that is jam-packed with collectibles.
Making waves
Stellmacher & Son of Dallas was not a known litho-tin maker, and this pail is so battered, you'd think it would draw little interest. I found it on eBay and acquired it only after a bidding war. It cost me $32.77.
I'm not sure why "Pasadenabear," the rival bidder, wanted it. For me, the attraction was that it came from an old Dallas restaurant, Jay's Marine Grill on Oak Lawn. That it was made here is another plus.
Stellmacher was a printing firm in Deep Ellum from the early 1900s to the '70s. Willetta Stellmacher of Dallas, whose late father-in-law, Herbert, and husband, Bob, owned it, says the company specialized in picture postcards featuring hotels and other businesses.
Sellers Marc Moore and Dondi Kickirillo of Dallas provided background on Jay's. Mr. Moore says Jay's was at the corner of Hall and Oak Lawn in the '50s and '60s. The building later housed the Crazy Crab and is now Nuevo Leon.
When he was a boy, Mr. Moore says, his family often ate at the nearby Spanish Village. He theorizes that Jay's used the pails to serve crackers or to hold crayons. Mr. Moore and Ms. Kickirillo have a Web site, www.zekesuncle.com.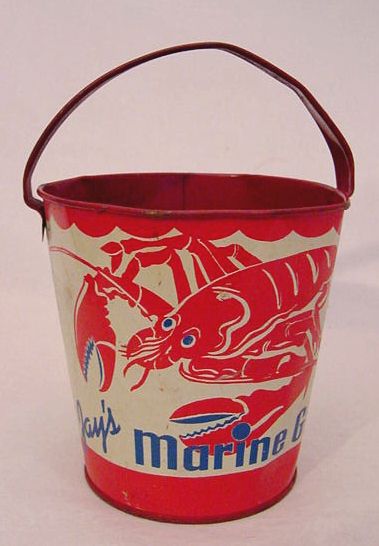 E-mail house&garden@dallasnews.com